Zwei neue PDF-Publikationen sind verfügbar: Aetherology und London Falling. Besonders interessant ist die Kompatibilität mit SR4 und SR5!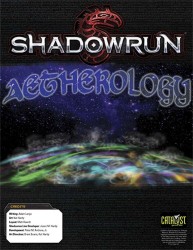 Aetherology ist ein Guide für die Metaebenen der Sechsten Welt.
Stretch Your Reality

There are waking dreams, there are active hallucinations, there are feverish visions that cannot be classified. And then there are the metaplanes, an adrenaline-fused combination of all of these, and more. Everything you dream of, everything you fear, everything beautiful and everything grotesque can be found out there. If you travel to the planes, you may lose your life, lose your mind, or if you're lucky, just lose your way. But you may find hidden secrets of magic and perhaps make powerful allies. It'll be a change from everyday life in the sprawls of the Sixth World, but may well be worth it. Are you ready for something entirely different?

Aetherology offers a grand tour of many metaplanes—the wild, the weird, the dangerous, and the everything in between. Prepare for mind-bending journeys to alternate realms of existence and the opportunity to encounter a new host of dangerous spirits and creatures. With rules on astral phemonena and new powers for the critters detailed in the book, Aetherology offers a whole new twist to your Shadowrun games.

Aetherology is dual-statted, meaning the spirits and creatures inside can be used in both Shadowrun, Fifth Edition and Shadowrun, Twentieth Anniversary Edition.
London Falling ist eine Sammlung von 4 Abenteuern, die in London spielen.
Smoke & Shadows
London—where the thick fog (sounds nicer than smog, doesn't it) makes for some truly deep shadows. Every crooked street, every cramped building holds a secret or two, as well as a person or two who will go to great lengths to ensure those secrets are kept. There is, for instance, the dark secret of a minor noble who has not been seen in Parliament in months. And the researcher who has a startlingly large amount of people interested in his work. The courier who carries one secret in his head and another in his gut. And an explosive secret that has been festering in the West End Underplex for years or even decades.

Skilled runners have the chance to uncover these secrets and more, but they'd better be ready for the forces of the world that would prefer to keep things covered up. They are tenacious, dangerous, and, perhaps most surprising for England, not at all polite.

London Falling features four adventures for Shadowrun set in London. Initially designed especially for gaming conventions, these adventures are now available to all players who want to dive in and see if they can survive the challenges of the Big Smoke. London Falling has stats that allow it to be compatible for both Shadowrun, Fifth Edition and Shadowrun, Twentieth Anniversary Edition.