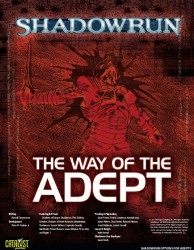 Catalyst beginnt eine neue Reihe, genannt Shadowrun Options, welche alternative Regelwerke und andere Herangehensweisen an Spielarten beinhaltet, so dass man die Art und Weise, wie man Shadowrun spielt, weiter ausbauen kann.
Das erste Buch der Reihe beginnt mit dem Buch "The Way of the Adept". Wie der Titel schon erkennen läßt, ist dies sehr adeptenlastig, so dass man jede Menge Spaß als Fäuste schwingender oder Pistolen ziehender Adept hat.
Wie immer kann man das PDF bei Battleshop oder DrivethruRPG erwerben.
Hier die Zusammenfassung:
LEARN THE WAYS OF POWER

Something is happening to the adepts of the Sixth World. They're becoming stronger, faster—some of them are even becoming more charming. Studies indicate that the improvements are fixing on the most disciplined of adepts, those who integrate their abilities into the greater whole known as a Way. By following these Ways, adepts are reaching new levels of power.
Einigen wird die Hintergrundgeschichte davon schon bekannt vorkommen, so Konzepte wie "Heimlichkeitsadept" oder "Pistolenadept", oder der allseits beliebte "Magieadept". Hier wird das ganze mit einigen Regeln, wie z.B. speziellen Gaben und Ki-Kräften, unterfüttert. Das ganze ist 15 Seiten schwer, aber für die Adepten unter Euch könnte es sich lohnen!
Quelle: www.Shadowrun4.com