Für die Abenteuer-hungrigen Spielleiter (und natürlich auch Spieler) da draussen hat Catalyst zwei neue Abenteuer als PDF Publikationen rausgebracht.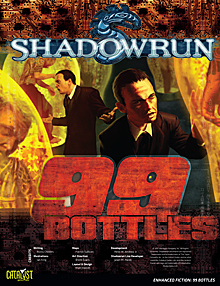 In "99 Bottles" wird erstmalig eine erweiterte Handlungslinie eingeführt. Abenteuer in Form von Kurzgeschichten werden mit Spielinformationen verknüpft so dass Spielleiter Elemente dieser Geschichte in die Abenteuerrunden einbauen können.
Bodies Are Stacking
Mob wars are ugly things, but not all ugliness is created equal. Things are going bad in Bangkok, and one Yakuza leader named Shinoda Yoshinori has been receiving a series of unsettling messages: bodies of other members of his gumi, packaged and delivered in a decidedly unique fashion. If Yoshinori wants to preserve his gumi—and save his life—he's going to have to take action. Due to the depleted manpower in his gumi, he's ready to turn to shadowrunners for help.
Na das klingt doch schonmal interessant. Aber das ist noch nicht alles, was Catalyst in Petto hat. Eine weitere Episode der Horizon Storyline wurde in Abenteuerform gebracht: Anarchy: Subsidized!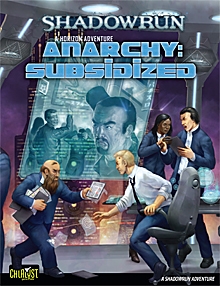 Nachdem das erste Horizon Abteuer "A Fistful of Credsticks" die Spieler nach Los Angeles geführt hat, geht es diesmal in die Szenelandschaft von Neo Tokyo!
The Backstab Slide
The only shadowrunners in the world who don't understand the importance of eliminating the competition are the ones who have already been eliminated by someone else. The Horizon Corporation wants its stable of music artists to sell a few more albums, and their brain trust has decided that the best way to accomplish this is to move some artists at the top of the charts out of the way. Outright killing the competition is no good—that often just boosts the deceased's album sales. The secret is to get the public to stop wanting what they're currently buying, and Horizon has developed some creative ways to make that happen.
Es wird Zeit, Geld zu verdienen, Chummers!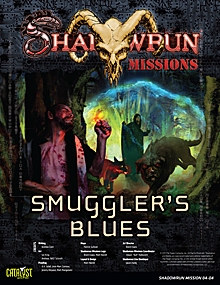 Zum Abschluss gibt es den nächsten Teil der aktuellen Shadowrun Missions Reihe in Seattle: Smuggler's Blues!
Stay Secret, Stay Safe
Crossing the border into Salish-Shidhe territory is not easy under the best of circumstances. Crossing when you're carrying an item that lights up the astral plane like a phosphorus bomb is even trickier. But the stakes are rising in the fight over magical artifacts that keep finding their way into the Seattle area, and that means the possible payouts are going up as well. If you can play the role of a smuggler to the hilt and make all the right contacts, you have the chance for a serious payday. Of course, you also stand a good chance of making some very powerful enemies, but isn't that always the way?
Jede Menge Material, echt tolle Sache! Ich wünsche Euch allen viel Spaß dabei.