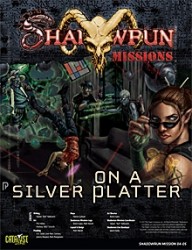 Die nächste Mission in Season 4 ist draussen: "On a Silver Platter"!
Die Zusammenfassung:
Best served cold

A year ago your fixer's daughter was killed by the Mayan Cutter copycat. He always suspected that someone else was pulling the strings, someone highly placed. Now he believes he has proof, but that someone isn't going down without a fight. The stakes are higher than ever aand someone's trying to stop you before you even start! Are you ready to serve up a side of revenge?
Das neuste Abenteuer der Shadowrun Missions Reihe führt die Geschichte der vorherigen Abenteuer fort, die sich um den Kampf zwischen dem Ork Untergrund und der Stadt Seattle um mehr Metamenschenrechte bündelt. Diesmal ist es die persönliche Trauer eines Vaters, die sich mit diesem Kampf vermischt und er sucht die Runner auf, um eine Fehde zu beenden. Wie weit werden sie gehen? Die Spieler haben die Chance, die laufende Handlungsreihe zu beeinflussen und die Zukunft von Seattle in der Sechsten Welt zu formen.
Als kleinen Bonus enthält das Paket zudem eine Vorgeschichte von einer Convention aus 2010 genannt "Copycat Killer". Bisher war diese Story jedoch nicht für die Öffentlichkeit erhältlich: das ändert sich jetzt. Diese Mission enthält zusätzlich zum normalen Missionsband auch die Copycat Killer Geschichte, ohne extra Kosten!
A little girl lost…

For three years the Mayan Cutter terrorized the metahumans of Seattle and many point to their inability to stop him as the reason Lone Star lost it's Seattle contract. Shortly after Knight Errant took over, the killings stopped and the Tin Men took credit for bringing him down. But now the killings have started again. Is it a copycat or is it the real deal? You'll have the chance to find out when a grief-stricken Mr. Johnson calls you to track him down so he can get revenge.
Also zwei zum Preis von einem: da heisst es nur zuschlagen!! Das Paket ist wie üblich auf DrivethruRPG zu kaufen.
Quelle: www.shadowrun4.com