Ab dem 14. September sind die beiden Regelwerke Street Legends und Runner's Black Book als Printpublikation in Englisch erhältlich.
Street Legends ist bereits als PDF verfügbar und kann per DriveThruRPG bezogen werden. Das Buch enthält Profile prominenter Figuren der Sechsten Welt, inklusive bekannter Decker wie Haze, Riger X und Puck, aber auch Personen aus dem Hintergrund wie Lugh Surehand, Nadja Daviar oder dem Großdrachen Lofwyr.
Street Legends profiles more than thirty renowned figures in the Sixth World, including JackPoint stalwarts such as Haze, Rigger X, and Puck; classic runners like Serrin Shamander and Tommy Talon; and powerful behind-the-scenes figures including Lugh Surehand, Nadja Daviar, and the great dragon Lofwyr. Learn about hunting vampires with Martin de Vries, running guns in a war zone with Marcos, and trying to put a face to the elusive Hans Brackhaus.
Das Buch wird voraussichtlich $44.99 kosten.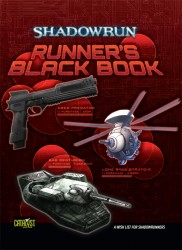 Das Runner's Black Book hingegen ist eine Zusammenführung von verschiedenen PDF Publikationen: Deadly Waves, Gun Heaven, MilSpecTech, This Old Drone, und Unfriendly Skies. Grafiken und Informationen sollen zudem auf einen aktuellen Stand gebracht werden. Zudem gibt es ein Buch mit neuer Ausrüstung speziell für dieses Buch, z.B. der Kriss X Submachine Gun oder der leichten samften TPP light pistol. Jedes dieser Ausrüstungsstücke wird in einer farbigen Illustration darestellt, um den Gegenstand in der kompletten Detailtiefe sehen zu können.
Das Runner's Black Book soll voraussichtlich mit $39.99 bepreist sein. Es soll zudem später noch eine limitierte Version dieses Buches geben, mit einem schwarzen Cover und schwererem Papier, dies wird jedoch nicht sofort erhältlich sein.
Quelle: www.shadowrun4.com